candi solar receives follow-on USD 14 M loan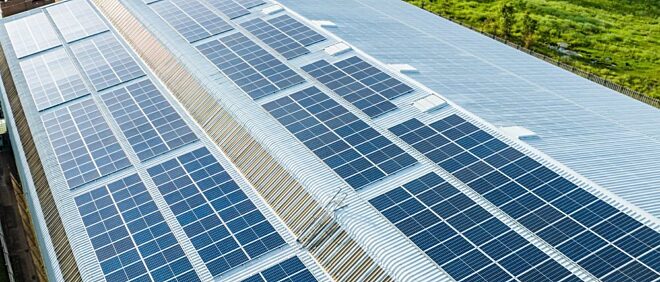 candi solar, an innovative financial and clean energy platform that enables distributed energy infrastructure in emerging markets to be built at scale, has received a further USD 14 million equivalent multi-currency loan from a climate fund managed by Swiss impact investment manager, responsAbility Investments AG, and BIO, the Belgian Investment Company for Developing Countries. This recent loan was issued following a USD 10 million equivalent multi-currency loan to candi.
The additional investment demonstrates our continued confidence in candi's innovative approach to providing clean energy infrastructure in emerging markets
Vicky Carré, Infrastructure Investment Officer BIO
The current total loan amount, now at USD 24 million, will finance new solar projects in South Africa and India. The loan structure provides flexibility in the allocation of funds between the two countries as well as the denomination currency, allowing candi to dynamically align its funding profile with the growth of its project portfolio.

The upsize of the facility is a testament to the successful relationship responsAbility, BIO and candi have built.
Bruno Rauis, Global Structuring Lead candi
"The first USD 10 million contributed to us almost tripling our operational asset base in 2022; where the USD 14 million upsize will contribute to our target of tripling the base again in 2023," says Bruno Rauis, Global Structuring Lead at candi. "This investment provides a springboard into the next phase of growth which visions the addition of 1 GWp of generation capacity to our portfolio."
candi continues to pioneer solar financing through the provision of solar ownership models with flexible, customer-centric contracts. Taking the key aspects of a standard Power Purchase Agreement (PPA) model and enhancing it with an array of valuable additions, candi provides simplicity, lower risk and higher value. candi brings a wealth of expertise from across the globe with flexible, localised solutions that are best suited for the customer and their context.
While clean energy financing has a significant impact on job creation in emerging markets, this investment also brings the positive environmental impact of financing solar assets to avoid an estimated 80,700 tons of CO2-equivalent per annum and furthermore falls under the leadership criteria of the 2X Challenge, addressing gender disparities and enhancing women's economic empowerment in renewable energy.
"The upsizing of the fund's facility with candi reinforces our belief in the quality and growth potential of the business and the strength of the market opportunity for commercial and industrial solar in India and South Africa," says Matthew McShane, Investment Officer at responsAbility.

Since the initial investment in 2021, we have seen the company make strong progress and we are glad to continue to support the growth of candi's portfolio.
Matthew McShane, Investment Officer at responsAbility
About
ResponsAbility Investments AG is a leading impact asset manager specializing in private market investments across three investment themes to directly contribute to the United Nations Sustainable Development Goals (SDGs): Financial Inclusion, to finance the growth of Micro & SMEs; Climate Finance, to contribute to a net zero pathway; and Sustainable Food, to sustainably feed an ever-growing population. All responsAbility investment solutions target specific measurable impact alongside market returns.
Since its inception in 2003, responsAbility has deployed over USD 13 billion in impact investments. With over 200 employees collaborating across seven offices, as of 1 March 2023 the company manages USD 4.8 billion in assets across approximately 280 portfolio companies in 74 countries. Since 2022 responsAbility is part of M&G plc, the international savings, and investments business, and contributes to enhancing M&G's capabilities in impact.