Replacing the charcoal value chain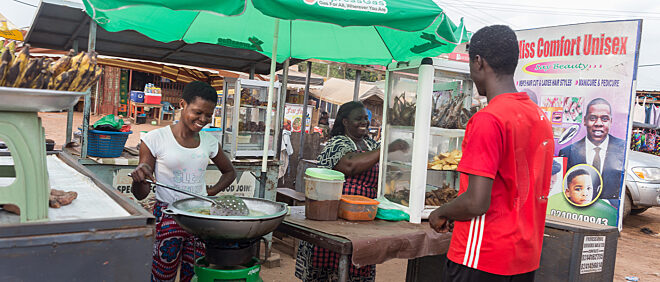 My name is Kofi Nketsia-Tabiri. I'm Ghanaian and the founder and CEO of XpressGas, a company that transports, markets and distributes LPG to refilling stations, small businesses, and households.
For the past twenty years, I have been actively involved in clean energy and energy access across Africa.
As a mechanical engineering student, I focussed on combined heat and energy projects within the sawmill industry in Ghana, making the industry less dependent on the energy grid. Later on, I became an intern at the UN's African Renewable Energy Enterprise Development Project. My job was to travel across Ghana, look at potential business models that could be used to increase energy access, and attract investors and funders. For ten years I worked with entrepreneurs to help them deliver clean energy to underserved communities.
But I felt that there was still more that could be done, and decided to take things into my own hands. So I went from being an advisor to entrepreneurs to being an entrepreneur myself, and I created XpressGas. Its primary goal is to replace charcoal for cooking and to deliver clean LPG to all households in Ghana. This is fully in line with the Ghanaian government's ambition to improve the access to LPG to over 50%.

Most people in Africa use biomass for cooking: firewood, charcoal, pellets, or briquettes. All of these contribute to deforestation, generate indoor air pollution, and emit greenhouse gasses. LPG is cleaner and, as it has a higher heating capacity, it reduces the cooking time, the gas needed and the money spent.
XpressGas' biggest competitor is the charcoal industry. About 35% of Ghanaian households still use charcoal to cook, and the Greater Accra and Ashanti regions combined consume over 50% of all the charcoal used in the country. While people in the countryside gather wood in their backyards or in the bush and burn it on an open fire, people in peri-urban areas don't have that option. Instead, they rely on charcoal imported from the countryside.
It is my vision to replace the charcoal value chain and to incorporate its people and infrastructure into the XpressGas network. The only jobs that would get lost in this energy transition are the actual producers of charcoal, who have the biggest environmental impact.
The XpressGas sales model is similar to a leasing system where people pay a deposit for their gas cylinder and then pay for the gas used. This puts the burden of safety and quality on us – and away from the customer – safeguarding our products and our brand. We showcase that this system works, and we're coming up with guidelines for our vehicles and our cylinders. The Ghanaian government is closely following what we do, learning from our experiences.
Reducing greenhouse gases
Paris Climate Agreement recognises the replacement of wood and charcoal with gas as one of the most effective ways to reduce greenhouse gas emissions. Using gas for cooking instead of firewood decreases CO2 emissions by about 60% and, furthermore, reduces the need to cut trees for firewood, one of the world's most important causes of deforestation.
XpressGas currently has twenty-seven LPG delivery vehicles, as well as a fleet of tricycles, bikes and motorbikes to transport the gas to a point of sale or directly to the consumer. We have 42,000 branded LPG cylinders under management. When they are empty, we replace them with fresh ones, so that we are slowly filtering out all the faulty and broken cylinders in the market. We are currently also working on a refurbishment plant to repair and recycle old cylinders, significantly reducing the need for importing new ones.

Rising global fuel prices
The war in Ukraine has caused global fuel prices to rise dramatically, which has impacted us greatly. We did not want to pass on the increased costs to our customers, as this would either make them lose their business, or us our clients. Instead, we have been tweaking our business model – we have added new, smaller cylinders to our product range, to ensure the minimum amount customers have to pay is within their ability and willingness to do so. We were also able to give credit to some customers and allowed them to pay with mobile money.
BIO has invested in XpressGas.
Kofi Nketsia-Tabiri is its founder and CEO. This is his story.
XpressGas Limited
Debt

€ 2,444,790.00 (2021)

Sub-Saharan Africa, Ghana
Read our most recent impact stories
Impact story
19-09-2023
BIO has invested in Poa! and provided them with technical assistance.
Wairimu Kimani has a small online bakery, which she's able to run thanks to the unlimited internet of Poa!.
This is her story.
Impact story
05-07-2023
BIO and the SDG FF have invested in the Ascent Rift Valley Fund II, which has invested in Platcorp Holdings. Ms. Judith Ojwang is a loan officer for Premier Credit, a Kenyan microfinance institution and a subsidiary of Platcorp Holdings.

This is her story

Impact story
25-05-2023
BIO is an equity investor in the EDFI Management Company.
Dr. Rodrigo Madrazo García de Lomana is its CEO. This is his story.