Bounce back, reinvent, and dream of a better future
My name is Géraldine Georges and I am proud and honoured to be the new chairwoman of BIO's board of directors. Firstly, because this mandate allows me to give a new impetus to the governance of BIO, together with the other board members. Secondly, because I am also representing the BIO employees, who are doing a remarkable, meaningful job with an impact.
I had my first real experience of an African context near the end of high school when my class took part in an exchange program with a school in Dakar. I was quickly struck – and repelled – by the dominating views in my class, one in which the benevolent white saviours from "the North" went to do some good in the poor, "underdeveloped South". Many of my classmates were busy organising projects and collecting money to "help". I was uncomfortable with that and I realised that none of my new Senegalese friends had ever actually asked for any help or handouts.
This critical attitude, as well as a strong desire to get to the bottom of things and truly understand people, led me to study journalism and I became quickly involved in social and ethical issues.
After a brief stint in the cultural sector, I started working for an NGO named SolSoc – Solidarité Socialiste. I worked in the department for development education and focussed on advocacy and communication. People everywhere are pretty much struggling with the same things: decent jobs, social protection, health, education, and better living conditions. We questioned colonial stereotypes and the miserabilist view of the so-called "developing" world. Instead, we chose to empower people. When later I started working for socialist parliamentarians, I quickly became involved in foreign affairs and development cooperation: that is how I got to know the Belgian Investment Company for Developing Countries.

In 2021, I was offered the position of chairwoman of the board. I realised that I could contribute on the strategic level, providing guidance on the choice of investments and the desired impact. As chairwoman, I am more concerned with values and strategies and I am aligned with BIO's decolonial approach to development, starting from the conviction that people in Africa, Latin America, and Asia are productive entrepreneurs with ideas of their own, quite unlike the stereotype of the patient, passive recipients of rich white men's subsidies.
Early on in my mandate, I visited Côte d'Ivoire for the opening of BIO's representation office for West Africa in Abidjan. The impression I got was that there are plenty of people in Africa who want to create jobs, with a sense of innovation and often in sectors I had never even thought of. There are many women and men there who are true entrepreneurs with a strong desire to create added value. For me, these people and their businesses are an important aspect of the lifeblood of a country, region, or community.
The wealth of African countries and other "developing" countries is diverse and immense. One of the challenges for the people of those countries is to become stronger and better equipped so that they gradually can stop depending on development cooperation.
BIO is one of many different tools of the Belgian development cooperation, together with Enabel, DGD, NGO's and the embassies. Its particular role is to strengthen the private sector in developing countries through investments. This has an enormous potential impact on the local populations. Some may think that such a tool only focuses on wealth creation, but actually, it is about the people behind the companies, their rights, their well-being, their emancipation, their hopes, and their dreams. Entrepreneurship (mostly in the informal sector) is often the biggest source of employment.

Strengthening the private sector gives BIO an important lever to promote decent work, gender equality, and to fight poverty and inequality, which are the main impediments to human development.
Gender equality and gender issues are also essential. One of the big difficulties women still face, for example, is the fact that they often feel illegitimate when speaking out, or wanting to take an important decision. Gender parity in a company's management bodies is very important. Also, in the countries in which BIO invests, women and girls do not always have access to schooling in the same way as men and boys. So we must fight for this. We have to encourage gender equality by investing with impact. As is the case for any country in the world, it is essential to give women a voice and ensure equal representation if we want to rebalance a patriarchal society.
So, luckily, the chairs of both BIO and Enabel, as well as the minister, are now women. We can be important role models for the (re)education of a new generation, both here and in the countries where we operate.
BIO is an essential player in providing a structural solution for companies that have been hit hard by the global health crisis. With its long-term direct and indirect investments BIO allows these entrepreneurs to bounce back, reinvent themselves, and dream again of a better future.
Géraldine Georges is the chairwoman of the Belgian Investment Company for Developing Countries.
This is her story.
Read our most recent impact stories
Impact story
25-05-2023
BIO is an equity investor in the EDFI Management Company.
Dr. Rodrigo Madrazo García de Lomana is its CEO. This is his story.
Impact story
19-04-2023
Ms Sibyl Chalupa is the head of the company DPXL in Kinshasa.
DPXL has received financing from the African Rivers Fund, a private equity fund focussing on SMEs in Central Africa, in which BIO is an investor. ARF is managed by XSML.
This is her story.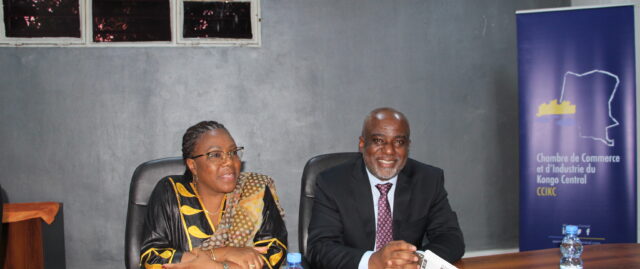 Impact story
07-02-2023
Ms Annie Samuna Tuluka is the managing director of Congo Call Center. Mr Fely Samuna is her husband and the general manager of the Congo Call Center.
Congo Call Center has received financing from the African Rivers Fund, a private equity fund focussing on SMEs in Central Africa, in which BIO is an investor. ARF is managed by XSML.