I bought myself a sewing machine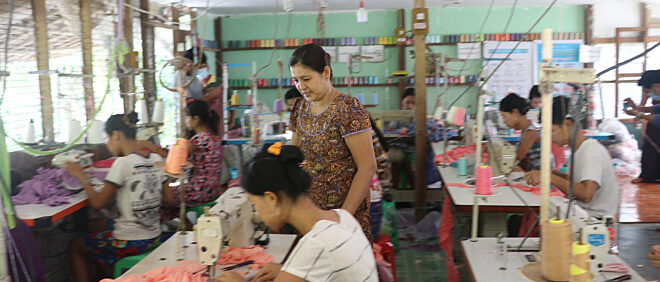 My name is Daw San San Win. I am 52 years old and live in Pay Kone Village in the township of Kungyankone in Myanmar with my husband and my 8-year old son. We started off as farmers, but we are in the clothing business now.
When I got married in 2010, my husband's parents provided us with some land to cultivate crops like berries. However, unlike my husband and his family, I wasn't really interested in growing fruit. That is why, in 2013, I took out a small loan of 80,000 Kyats (50,5 Euros) from the Pact Global Microfinance Fund (PGMF) and bought myself a sewing machine. Later on, I borrowed another 150,000 Kyats (95 Euros) to buy more sewing machines. The third time round, three years after the first loan, PGMF lent me 250,000 Kyats (158 Euros), allowing me to establish a small clothing factory.
When I first established my factory, there were many hurdles. We did not have the technology yet to produce good quality clothing and our suppliers did not trust us enough to provide us with raw materials, so we had to hire a technician to ensure good quality products, and I had to take classes to learn about the different processes.
From that moment onwards, however, the business has just been expanding – continuously supplied by PGMF loans: In 2016 and in 2017, I got 800,000 Kyats (550 Euros); In 2018, I got 1 million Kyats (631 Euros), in 2019, 1.5 million Kyats (947 Euros) and this year even 3 million Kyats (1,894 Euros), all of which I invested into the business. Of course, that is a lot of debt, and there is no such thing as free money, but it enabled me to expand my business, and profit margins. I started out with 5 collaborators and currently employ 25, well actually 24 women and one man. I consider that to be a big success. Fifteen of these have also taken out small loans at PGMF for our cooperative company. Since they have a regular income now, they don't have any difficulty to repay the principal interest every 2 weeks. This ties up nicely with PGMF's focus on female micro-entrepreneurs.
To avoid over indebtedness, PGMF only grants one loan per year, so of the seven loans I've taken with them, six have already been repaid. Currently, I only have two outstanding loans left: next to the 3 million Kyats from PGMF, there is a 1.5 million Kyats from the Myanmar Agricultural Bank (MADB).
I plan on continuing to grow my company. To save on transport charges, my dream now is to buy my own vehicles to transport my finished products to the city. Such an investment will require further – and bigger – loans, but I am happy to remain a microfinance member with PGMF.
Starting over
Daw Kyi Htay, a 60 year old woman in the Taw Kha Yan village, is another (repeated) client of PGMF. As farmers, she and her family were severely affected by Cyclone Nargis in 2008. This tropical cyclone was the worst natural disaster in the recorded history of Myanmar, causing catastrophic property destruction and at least 135 thousand fatalities. While the family kept their lives, they lost everything else: their house, their crops, everything. So to start over, she joined PGMF, beginning with a small 80,000 Kyats loan to buy seasonal plants in crops, moving to a latest loan of 900,000 kyats to set up a small grocery store. There are plans to buy and renovate more shops, and Daw Ky Htay will remain a client of PGMF to achieve this. "As long as I remain in good health, I will continue to work with microfinance institutions to create a successful business."
Microfinance
If you are in business and are willing to invest in it, it is not that difficult anymore to get a loan from a microfinance organisation. Only ten years ago, however, the situation was very different. There weren't many microfinance institutions around – PGMF was one of the only ones, having started in 1997 through a UNDP programme. This all changed in 2011, when the Myanmar government approved a microfinance law, leading to the emergence of a lot of microfinance institutions – over a 170.
This, of course, generated a lot of competition. This is good for the borrowers, ensuring a better service and a wide variety. PGMF's specialty, for example, is the concept of group loans. I myself am a group loan member. In order to get a loan, you need to apply with four other people, with the members mutually guaranteeing each other's loans. The system works well. Over the past eight years, we have not had a single bad experience with repayments in our group.
Another important distinction of PGMF is their focus on women entrepreneurs. I think this is a good idea, as men usually aren't that interested in small loans, and women are better at managing business situations and paying attention to timely repayments; making them more interesting business partners for an MFI.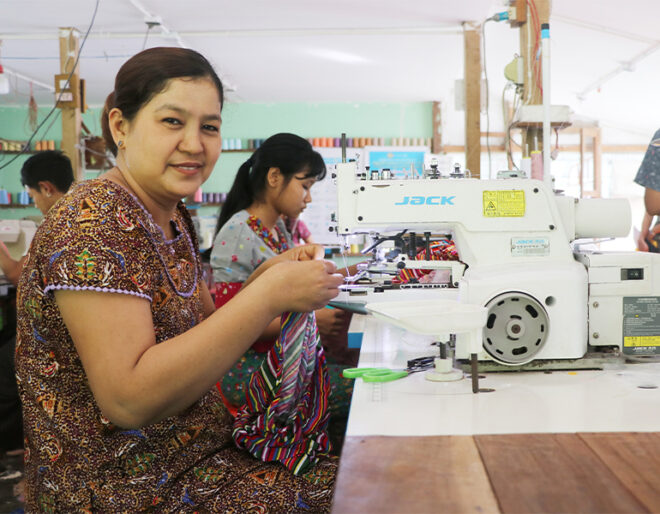 BIO has given a USD 12 M loan to Pact Global Microfinance Fund, a Myanmarese MFI with a specific focus on female entrepreneurs. Daw San San Win and Daw Ky Htay are clients of PGMF. This is their story.
Pact Global Microfinance Fund
Debt

€ 10,480,320.00 (2020)

Asia, Myanmar
Read our most recent impact stories
Impact story
14-09-2021
BIO has invested in African Rivers Fund I and III, managed by XSML.
Jarl Heijstee is the co-founder and managing partner of XSML. This is his story.
Impact story
07-06-2021
BIO has invested in the Fairtrade Access Fund and is one of the donors of its Technical Assistance Facility (TAF FAF).
The Fairtrade Access Fund has invested in Soprocopiv, a coffee cooperative in Kivu, in the DRC, and has, likewise, supported them through a Technical Assistance Facility.
Judith Kahindo Katavali works as a technical supervisor of agronomists for Soprocopiv. Kambale Bonane Blessing owns a coffee plantation and is one of the members of Soprocopiv. This is their story.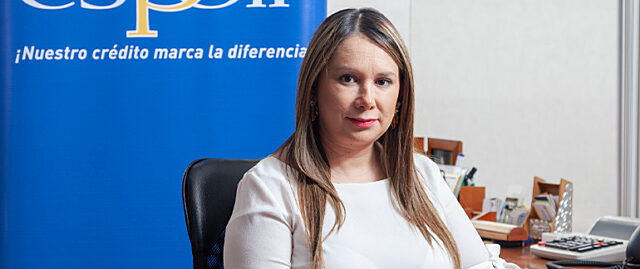 Impact story
03-05-2021
BIO has invested - through equity, loans and technical assistance - in the Local Currency Microfinance Fund II - LocfundII. This fund has, in turn, invested in Fundación Espoir.
Claudia Moreno is the Deputy Executive Director of Fundación Espoir. This is her story.